TLC client Tanesh Nutall was harassed and blocked from using the bathroom by a city employee — complaint below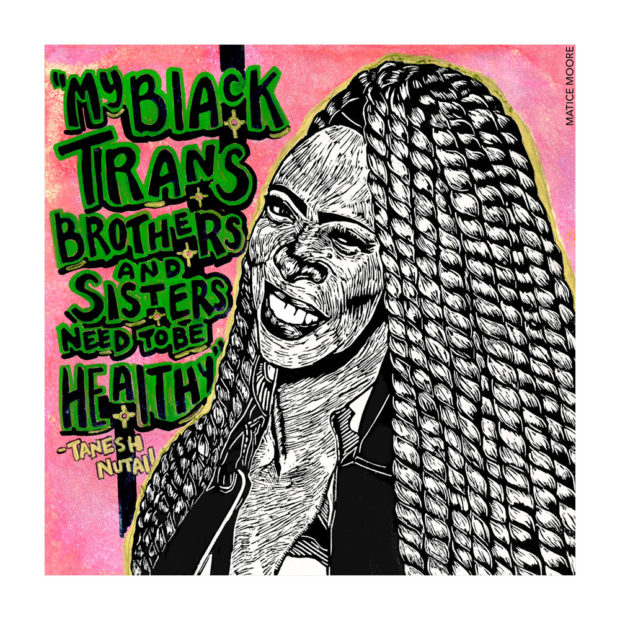 (San Francisco, CA) – Last week, the California Department of Fair Employment and Housing (DFEH) filed a lawsuit alleging that the city of San Francisco discriminated against Transgender Law Center (TLC) client Tanesh Nutall when a city employee unlawfully denied her access to the women's restroom and called her offensive slurs because she is transgender.
"As a transgender person, I heard about San Francisco my whole life and moving there felt like I'd finally found home, a place where for the first time I could be safe as myself," said Tanesh, an African American 52 year-old transgender woman, minister, and social worker who specializes in supporting the transgender community. "So I was devastated and crushed when a representative of the city stopped me from using the bathroom and called me a freak. Everywhere I went after that, I saw her face and heard her voice and I started believing that what she said about me was true. I had a nervous breakdown and my husband and I had to leave San Francisco because I no longer felt safe. She robbed me of the city that I thought was home."
While Tanesh was attending a training at the Department of Police Accountability (known at the time as the Office of Citizen Complaints) in February 2016, an employee of the agency blocked Tanesh from using the women's restroom because she is transgender and called her a "f—ing man" and a "f—ing freak." As a result of this unlawful and discriminatory treatment, Tanesh experienced severe emotional and physical pain, which resulted in her losing her job and home, and led to major setbacks to her physical and emotional health. The DFEH lawsuit states that in discriminating against Tanesh because she is transgender, the city employee violated the Fair Employment and Housing Act and the Unruh Civil Rights Act.
"San Francisco prides itself on supporting the LGBTQ community, but cases like this show that the city's support does not extend to the safety and lives of transgender women of color," said Isa Noyola, deputy director at Transgender Law Center, the largest national trans-led organization advocating self-determination for all people.
Tanesh, represented by TLC, filed a complaint with the San Francisco Human Rights Commission (HRC) in 2016. The Commission refused to complete an investigation because the city attorney's office wrongly instructed HRC not to investigate under the justification that HRC could not investigate a city agency. The Department of Police Accountability is a city agency that is supposed to assist transgender individuals pursuing justice in response to frequent mistreatment, but instead unlawfully denied Tanesh access to a bathroom in a public building because of her gender identity and gender expression.
"Tanesh should never have experienced the intense harassment she faced that day, much less in a government building by a city employee who's entrusted with investigating complaints of misconduct," said Flor Bermudez, legal director at Transgender Law Center. "That the city then failed to address this harm to a Black trans woman, forcing the state to step in, is shameful and egregious. TLC will continue to represent Tanesh and support the state in this lawsuit to ensure she gets justice."
The City of San Francisco has 30 calendar days to file a written response to the civil lawsuit.
###
Transgender Law Center (TLC) is the largest national trans-led organization advocating self-determination for all people. Grounded in legal expertise and committed to racial justice, TLC employs a variety of community-driven strategies to keep transgender and gender nonconforming people alive, thriving, and fighting for liberation. www.transgenderlawcenter.org