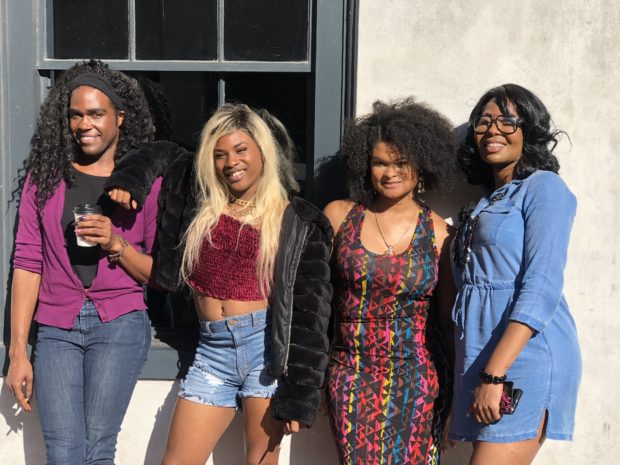 Today is the birthday of radical movement leader Marsha P. Johnson. Her story is one of bravery, dedication, and power. As we remember the brilliant work she did throughout her entire life for the LGBTQIA+ movement, let's also acknowledge the blueprint she left for her Black trans daughters who would come up and into their own long after she left this Earth.
While so much has changed for many marginalized groups since Johnson's untimely death in 1992, so little has changed for Black trans women. The numbers of reported murders have reached record levels in the last few years. 2017 was called the deadliest year on record for trans people with the average age of 30 years old for Black trans victims. So far in 2018, there have been at least 16 reported murders of trans people, 9 of them were Black trans women.
Unfortunately, when Black transgender women are under attack there are few places to turn for accountability and protection. Often when reporting instances of violence Black transgender women are targeted by law enforcement and the justice system in unlawful and violent ways. Atlanta-based Solutions Not Punishments Collaborative's landmark 2015 report depicts the frightful experiences of transgender women of color who engage with law enforcement whether by choice or happenstance:
Four out of five trans women of color reported being approached or stopped by the Atlanta Police Department (APD) and 46% said that police assumed they were sex workers. Many felt they had been profiled based on their gender identity.
Two out of five trans women of color reported being arrested despite having called the APD for help.
Thirty-five percent of trans women of color reported feeling that their life was in danger because of an APD officer.
It is imperative that Black trans women gain skills to heal, organize, and develop internal community solutions because relying on the state/police/court system is often not an option. Previous efforts to respond to the violence targeting Black trans women focused on larger national organizations elevating reports and statistics. We need and deserve more.
That's why I developed Black Trans Circles (BTC), a new program made possible by a Soros Equality Fellowship and hosted by Transgender Law Center. BTC is building the leadership of Black trans women in the South and Midwest to create community solutions for prevention, healing, and resilience in response to violence.
In March of this year, BTC launched with a pilot convening in New Orleans, LA. Over the course of two days, nine Black trans women from the local area were gathered to discuss their experiences, how violence has impacted their communities and how to move forward with strategies of transformation. We laughed. We cried. We leaned on each other. We made a commitment to take control of our destinies.
Throughout my fellowship, I will be dedicating the next year and a half to take the program to new heights. In 2019, we will be impacting more places across the South and Midwest that have experienced high rates of violence against Black trans women. We live in the legacy of a long line of powerful Black trans women who have never shied from our duty to save ourselves and each other. Just like Marsha created a way out of no way decades ago, we are primed to do the same. No longer can we allow or demands to pushed aside because we deserve safety, solace, and support.
Raquel Willis is a National Organizer with Transgender Law Center, and a recent recipient of a Soros Fellowship for the program she launched, Black Trans Circles, hosted by TLC. Keep a lookout for more exciting updates from Black Trans Circles!